Pesto Steak Sandwich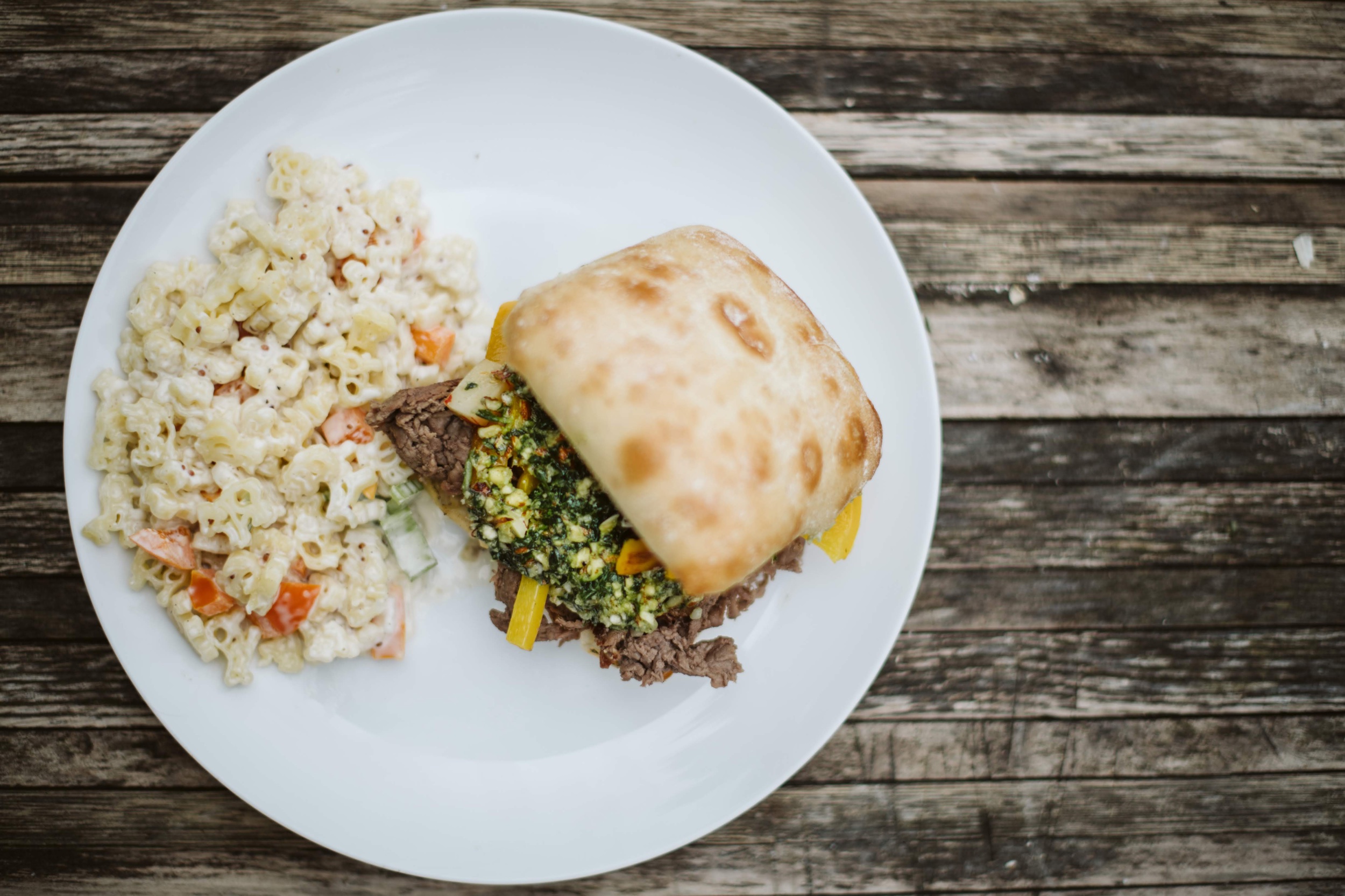 When the garden herbs are growing like crazy, I like to find as many ways to use the fresh herbs to liven up our meals. Basil tends to be one of our more prolific herbs at home, so fresh pesto is a great way to use the excess. Adding pesto to a steak sandwich makes a great summer dinner that is quick and easy to put together, but still feels refined enough to put it a step above the standard steak sandwich.

Preparing The Meal
Combine the basil, 1/4 Cup Olive Oil, almonds, Parmigiano-Regianno, lemon juice, and 1 clove of garlic to a blender. Pulse until the ingredients are all combined, and the pesto has developed a smooth consistency. Season with salt and pepper to taste.
Heat a cast iron pan over medium-high heat. Add 2 Tablespoons of oil to the pan and heat until shimmering. Add the onions and peppers to the pan and cook for about 8 minutes, or until the onions are browned. Add 2 cloves of chopped garlic and cook for 30 seconds. Add the chipped steak and season with salt and pepper. Use a wooden spoon to stir the meat occasionally, making sure to break the thin slices of meat apart. Cook for about five minutes, until all of the slices are evenly cooked. Allow all of the meat to sit undisturbed for 1 to 2 minutes to develop a crust on the edges.
Brush the inside of each roll with olive oil, and toast until lightly golden brown. Once toasted smear mayo on the inside of each roll. Add the cooked chipped steak with onions and peppers. Add a slice of cheese and broil until melted. Top with pesto, and serve immediately.
Ingredients
4 Tablespoons Olive Oil, Divided

1 Pound Chipped Steak

1 Small Onion, Sliced

3 Cloves Garlic, Thinly Sliced, Divided

2 Cups Basil

1 Tablespoon Lemon Juice

1/2 Cup Almonds

1/2 Cup Olive Oil

1/2 Cup Parmigiano-Regianno Cheese

1 Bell Pepper, Sliced

Kosher Salt and Fresh Ground Black Pepper

CiabattaRolls

Provolone Cheese

4 Tablespoons Mayo