Chile Rellenos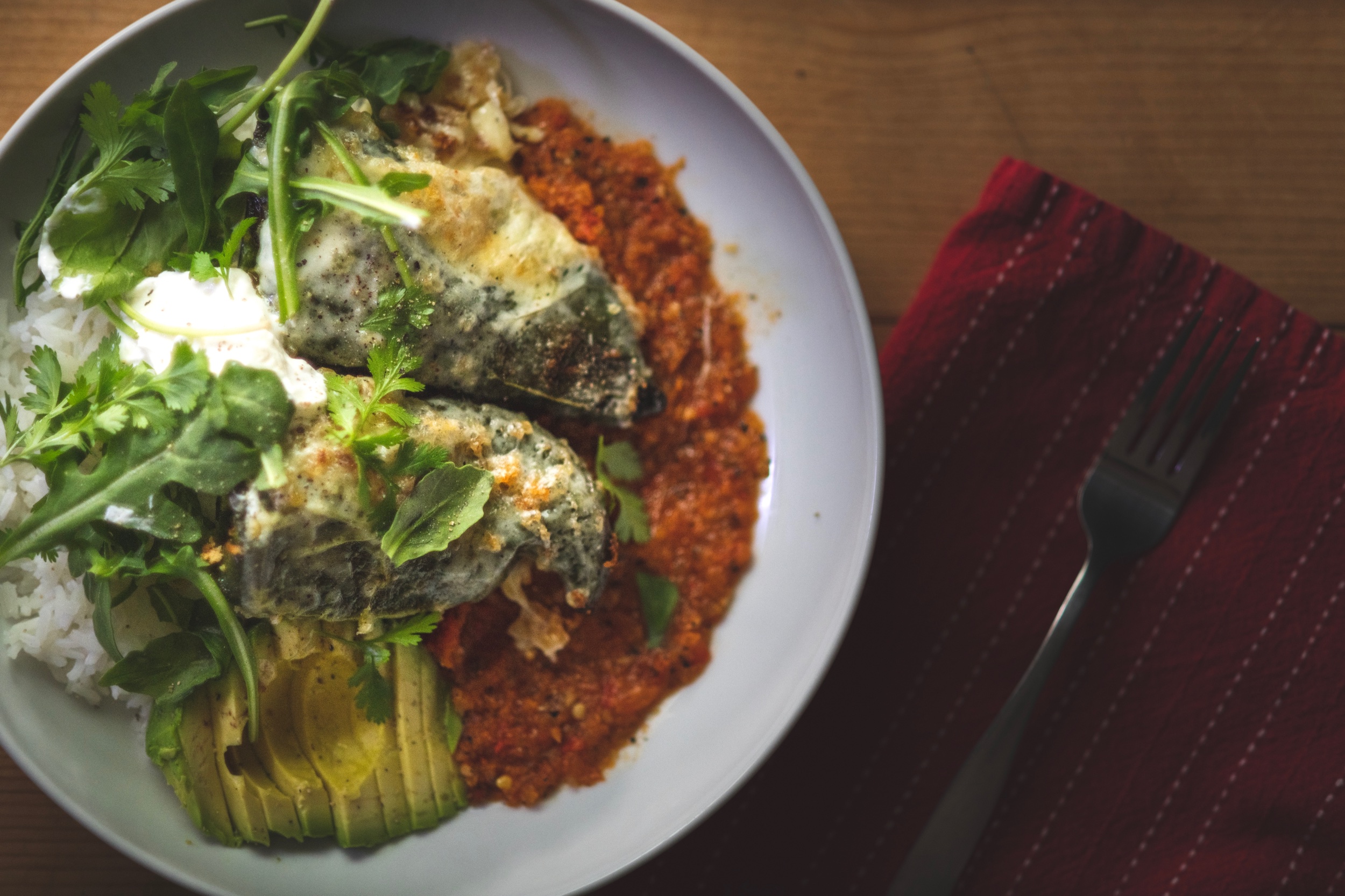 If you are looking for a new take on Taco Tuesday, try making Chile Rellenos. It's a simple and relatively quick meal that has all the flavors of Taco night, wrapped in a different package. These peppers are traditional lightly battered and fried, but for a lighter meal just skip the batter and roast the peppers instead. It's a perfect summer meal to enjoy with friends and family. Serve with your favorite sides like rice, beans, and avocado.
Preparing The Meal
Start by heating the olive oil in a cast iron pan over medium heat, until shimmering. Add the ground beef to the pan. Use a wooden spoon to break up the meat into small chunks. Allow the meat to begin browning, stirring occasionally for 6 to 8 minutes. Next add the garlic and stir to incorporate. Cook for an additional 2 minutes. Add the cornstarch along with to other seasonings and stir to combine. Cook for 1 minute stirring constantly. Add the water, and stir to combine. When the water has reduced to a thick sauce remove the pan from the stove and allow the meat to cool.
Preheat the oven to 400 degrees.
While the meat is cooling begin preparing the peppers by creating a slice lengthwise along the pepper, and remove the seeds. Coat the peppers with olive oil, place them on a baking sheet and roast for 10 minutes. After the peppers have roasted for 10 minutes, remove from the oven and allow to cool until you can handle them. Stuff each pepper with an equal portion of the ground beef, and place back on the baking sheet. Return the peppers to the oven for an additional 15 to 20 minutes. You want the peppers to become soft, but not fall apart. When the peppers are fully cooked remove them from the oven, and turn on the oven broiler. Cover the peppers with the shredded cheese, and place under the broiler. Cook until the cheese melts, and begins to brown slightly.
While the peppers are cooking, prepare the rice using your preferred method. When the cheese has melted, remove the peppers from the oven. To serve scoop a portion of rice onto each plate, and spread to cover half of the plate. Fill the other side of the plate with salsa. Place two peppers in the center of each plate, and top with avocado, sour cream, and cilantro. Serve immediately.
Ingredients
2 Tablespoons Olive Oil

1 Pound Ground Beef

6 Poblano Peppers

5 Ounces Cheddar Cheese, Shredded

Kosher Salt

Fresh Ground Black Pepper

2 Cloves Garlic, Minced

1 Teaspoon Garlic Powder

1 Teaspoon Onion Powder

1 Teaspoon Dried Oregano

2 Teaspoons Ground Cumin

1 Teaspoon Cornstarch

1/4 Cup Water

1 Teaspoon Smoked Paprika

2 Tablespoons Fresh Cilantro, Chopped
To Serve
Rice

Avocado, Sliced

Salsa

Sour Cream