Grilled Buffalo Chicken Sandwich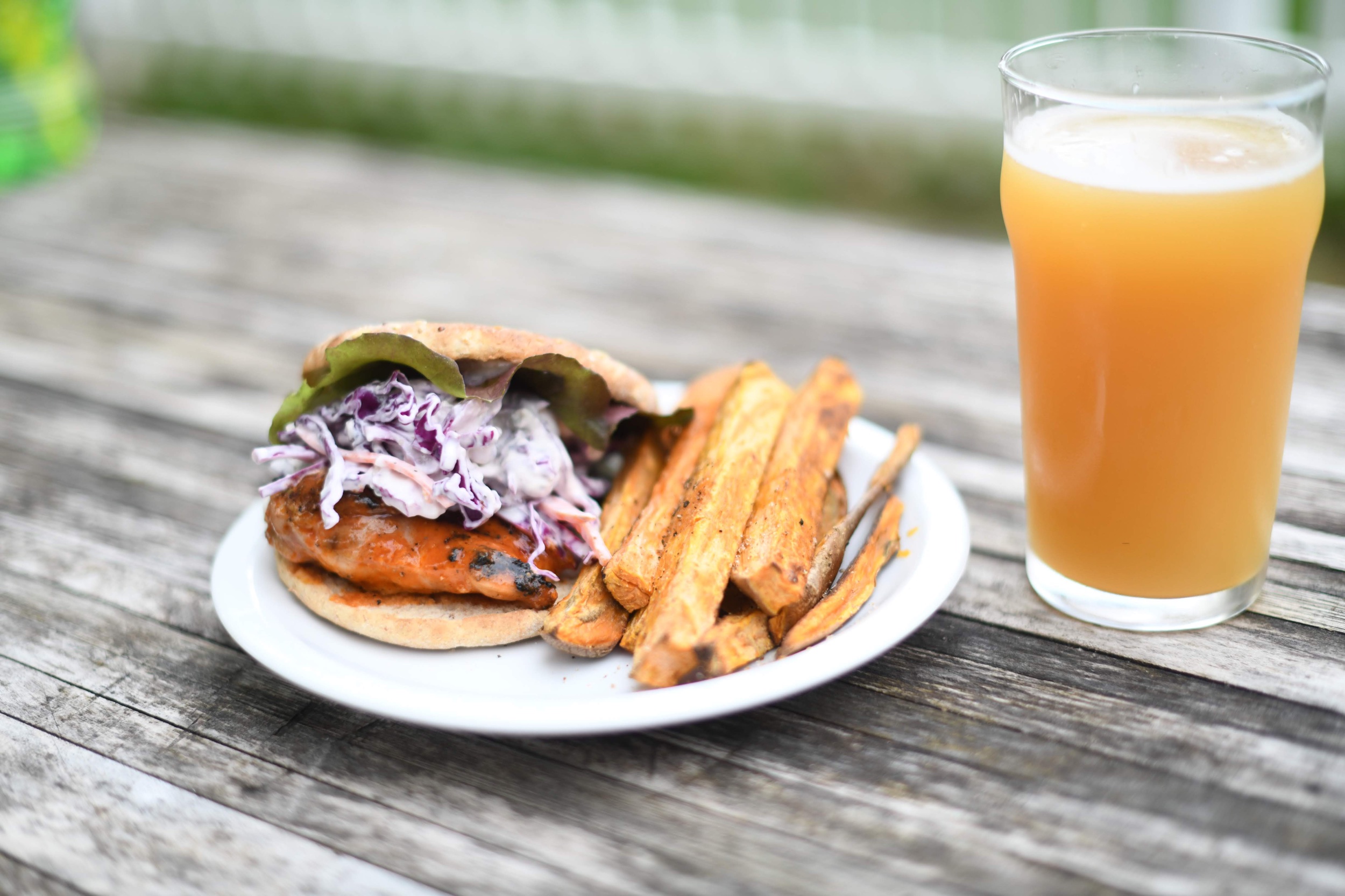 There is something about the smell of chicken coated in hot sauce on the grill that reminds me of summer. The pairing of spicy, tangy hot sauce with the smoky char from the grill makes this buffalo chicken sandwich something special. I prefer to use chicken thighs because they have a lot of flavor and are less likely to become dry, but you could use chicken breast instead. Just be careful to not over cook the meat. For a twist on the classic combo of hot sauce and blue cheese, make this blue cheese slaw. It adds a nice crunch to the sandwich while giving you the flavors you know and love. Enjoy with a nice cold beer, and remember to make extra because you will want to go back for seconds!
Preparing The Meal
Start by preheating your grill on high heat. While the grill is heating, prepare the blue cheese slaw. In a large bowl combine the cabbage, onion, and carrot. In a small bowl combine the mayo, sour cream, vinegar, sugar, garlic powder, 1 teaspoon salt, 1 teaspoon pepper, and the blue cheese. Add the blue cheese mixture the the shredded vegetables and stir to thoroughly combine. Refrigerate until ready to use.
When the grill is ready season your chicken thighs with salt and pepper on all sides. Place the chicken on the grill and cook undisturbed for 3 to 5 minutes. Flip the chicken, and baste the chicken thighs with hot sauce. Cook for and additional 3 to 5 minutes. Flip the chicken again, and baste with more hot sauce. Continue to flip and baste the chicken for about 1 minute per side, being careful not to burn the meat, until the chicken is fully cooked and has developed a nice coating of hot sauce.
To serve place one chicken thigh on the sandwich roll and top with some blue cheese slaw, a lettuce leaf, and the top of the roll. Serve alongside sweet potato fries.
Ingredients
6 Chicken Thighs

1/2 Cup Hot Sauce

3 Teaspoons Kosher Salt

2 Teaspoons Fresh Ground Black Pepper

2 Teaspoons White Sugar

1 Teaspoon White Vinegar

1 Teaspoon Garlic Powder

1 Cup Purple Cabbage, Shredded

1/2 Cup Carrot, Shredded

1/2 Cup Onion, Sliced

1/2 Cup Mayo

1/4 Cup Sour Cream

6 Ounces Blue Cheese Crumbles

6 Large Lettuce Leaves

6 Sandwhich Rolls, Toasted