Grilled Steak And Vegetable Picnic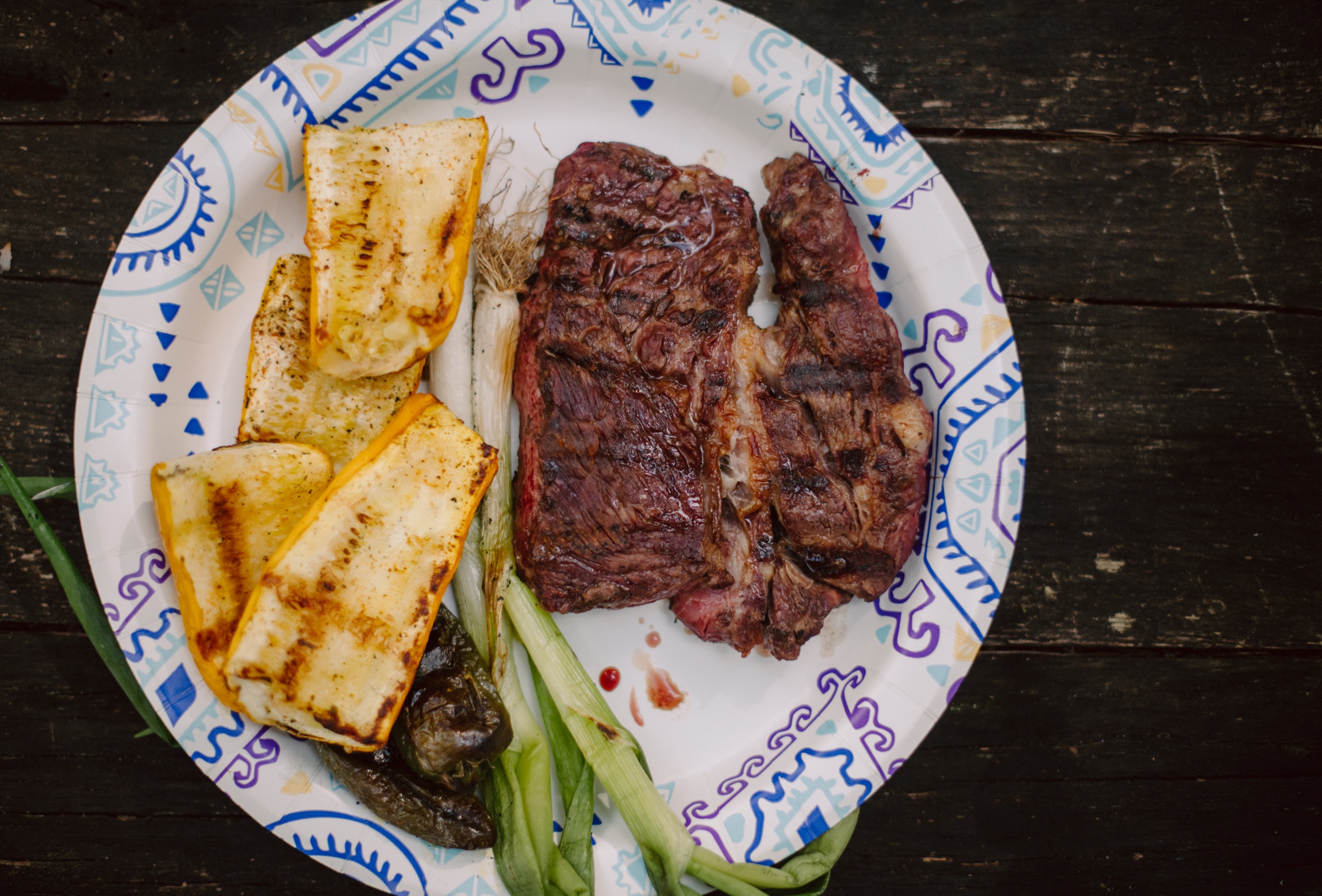 Summer always seems to be the busiest time of year. Nearly every weekend has us going in a different direction for one event or another. While all of this travel and excitement is fun, weekends where we get to slow down and spend some time together as a family is always greatly appreciated. Fortunately we have had a few weekends like that lately, and have taken full advantage of it.
We are lucky to have one of Pennsylvania's many beautiful state parks nearby, allowing us to get outside to enjoy some sunshine quite easily. With two dogs and a 3 year old, spending time outside or in the water is a great way to run, play, and burn the copious amounts of energy that the three of them have. Knowing we will be out for most of the day, it is essential to make sure we take some good food along to grill while visiting the state park. Our most recent picnic was a simple one, consisting of only a few ingredients. There was no real plan, we just gathered up some fresh veggies from the garden, picked the meat from the freezer that looked good, and headed out the door. The key to this type of meal is making sure you choose quality, fresh ingredients. Once we were there the fun began, spending hours playing in the sand and water. As you can imagine we all worked up quite an appetite, and the food we packed was going to be the perfect remedy. Some simple seasoning, open fire, and a little time gave us the perfect meal to end our fun filled day.
Preparing The Meal
Start by combining the salt, pepper, smoked paprika, garlic powder, brown sugar, dried oregano, ground coriander and chili powder in a small container to create your seasoning blend. Stir to thoroughly combine.
Next preheat your grill on high. While the grill is heating, set your steaks out on a plate and allow to come up to room temperature. Then, slice your squash in half lengthwise. Toss all of the vegetables with two tablespoons of olive oil, and season with a few pinches of the seasoning blend.
When the grill is heated, place your veggies on the grill over direct heat and cook for 2 to 3 minutes per side, moving as necessary to prevent burning. As the vegetables begin to char move off of direct heat to allow to continue cooking slowly from the indirect heat. Next, rub 2 tablespoons of oil on the steaks and season with the seasoning blend on both sides. Place the steaks on the grill over direct heat. Leave undisturbed for 3 to 4 minutes. Flip the steaks and cook for an additional 3 to 4 minutes. Continue to flip and move the steaks occasionally for another 1 to 3 minutes, making sure to prevent the steaks from burning. You want the meat to be rare to medium rare. When the steaks are cooked, remove from the grill and allow to rest for 10 minutes.
Once the meat has rested serve alongside the grilled veggies, and enjoy immediately.
Ingredients
2 Chuck Eye Steaks

1 Medium Summer Squash

2 Green Onions

2 Jalapeno Peppers

4 Tablespoons Olive Oil

2 Tablespoons Kosher SaTablespoons Fresh Ground Black Pepper

1 Tablespoon Smoked Paprika

1 Tablespoon Garlic Powder

1 Tablespoon Brown Sugar

2 Teaspoons Dried Oregano

2 Teaspoons Ground Coriander

1 Teaspoon Chili Powder